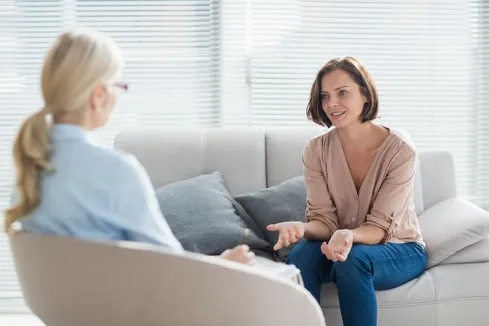 "My life has changed drastically since I've started seeing Dr. Schanz, but in the best way possible! I'm a much stronger and happier woman now than I was when I first came in to see her." — Sarah Bartel
What is professional counseling?
Professional Counseling is designed to diagnose and treat mental illnesses, such as:
Major Depression
General Anxiety Disorder
Social Anxiety Disorder
Bi-Polar Disorder
PTSD
Obsessive-Compulsive Disorder
Anorexia
Bulimia
Health insurance usually covers professional counseling.
Professional Counselors are licensed by their state to provide diagnostic and treatment services to citizens of that state. They may not practice outside their state of licensure.
Dr. Anne is licensed in Texas and may only offer diagnostic and treatment services in Texas.
LEARN MORE ABOUT DR. ANNE'S LICENSING
Fear is the source of all behavioral and emotional problems
Professional counseling with Dr. Anne is always aimed at building unconditional self-acceptance by eliminating fear (aka anxiety).
Fear is the source of all behavioral and emotional problems.
The antidote to fear is self-acceptance (love) and faith in your ability to adapt to whatever comes.
You have a 100% track record adapting to all the challenges in your life
Adapting is your superpower!
Learning to have faith in your ability to adapt will be your salvation from fear.
No matter what horrible thing may happen, you'll figure out how to make it okay.
You always do…
You always will…
You have to. There is no choice.
The Clarity Key Model© is a framework of the mind, useful in identifying hidden fears generating behaviors and emotions that undermine achieving your goals.
As long as such fears remain hidden, they hijack your current efforts to make changes in your life, leaving you confused, frustrated, and self or other blaming.
Do not be discouraged. You can learn how to eliminate these fears and move forward with confidence and courage.
Counseling with The Clarity Key Model
Dr. Anne uses The Clarity Key Model© in her professional counseling to teach specific methods to identify and eliminate blocks to reaching your goals. The model helps you address:
Unfounded fears
Emotional triggers
Judgmental attitudes
Fear of conflict
Distorted personal and relationship expectations
Co-dependence
Blaming self and others
The Clarity Key Model helps you learn and practice practical methods to build habits that:
Sustain self-care
Set and maintain social/work boundaries
Help you reach career goals
Resolve workplace problems
Develop rational financial decision making
Enrich relationships
Create a happy marriage and relationships
Supportive, healthy families
The Professional Counseling Process
First Session. Dr. Anne's professional counseling process begins with reviewing your new client forms (contact information, client intake form, and limits of confidentiality).
Next, you'll discuss your specific issues, needs, and goals. Dr. Anne will collect and examine relevant history to help you understand how your issues arose.
While every client has different needs and goals, the professional counseling processes are universal.
With Dr. Anne's help, you'll create a plan to address your current symptoms with research-based anxiety-reducing techniques such as:
Specific breathing protocols
Relaxation with visualizations, mindfulness, and meditation
Emotional Release Tapping (ERT)
Depending on your specific situation, Dr. Anne may refer you for evaluation and medication support.
You'll agree to a custom counseling plan and work together to:
Relieve emotional pain
Set healthy boundaries
Improve communication
Learn to resolve conflict
Eliminate behavioral problems
Enhance well-being through self-understanding and acceptance
Professional Counseling Investment
Professional counseling single 60-minute sessions: $100 – $200
Your total counseling investment depends on your individual needs and goals and is calculated using insurance coverage and/or a sliding scale based on income. Contact Dr. Anne directly to learn more.
Learn more about professional counseling for individuals, couples, and groups.