CLARITY KEY I: Change Your Anxiety Provoking Habits
You do not have to suffer in constant anxiety and fear. Even in these unprecedented times, you can change your perspectives and use simple techniquers to quell your fears, focus on the present and get on with life. Let me show you how.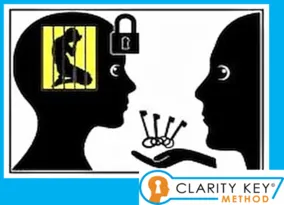 STOP SABOTAGING YOURSELF! Learn to use The Clarity Key Method© to uncover and eliminate the hidden beliefs driving your self-defeating reactions, emotions and behaviors. Once you uncover the beliefs, you will change long standing self defeating patterns in your relationships, self esteem/acceptance, and success. You will finally be able to achieve your full potential. The class is a combination of presentation of new concepts, discussion and experience using the techniques.
Format: 1.5 hour group sessions 1/week, on Tuesdays, 6:30-8 pm, for 6 weeks. New classes form every 7- 8 weeks, except during November and December. This format allows time to assimilate the new perspectives and gain experience using the new concepts under the direct supervision of Dr Schanz. In this class you will learn the theory and practice of using The Clarity Key© model to uncover the root causes of your negative emotional reactions, relationship problems and self-defeating behaviors so that you can finally achieve your life goals.